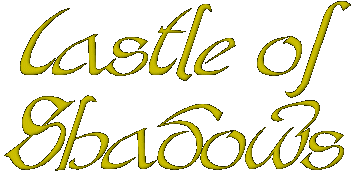 Blessed Be and welcome to the Castle of Shadows ... Smokeshadow's humble little home on the web! For now this page is more of a jump point until I can find the time to add all the new things I'm working on ... but time is precious so please bear with me!
Most of my pages are residing at Iye's Earth; including the Faerie Dell, all the links and lots of other stuff. Dragon Valley has a new home and is still just one page; this is soon to be finished (I hope!) and everything is still very much under construction. The webrings are a mess and in serious need of update so please be patient with me here: they are over at the Earth if you want to take one out of here. Things were becoming a chore instead of a pleasure, so I have decided to relax and just do things when I feel like it - and I've got more done since deciding that than I ever did before. But don't forget; if you want to see something and it's not here and has been promised, just give me a shout and I'll get a shift on.
So go take a wander through my Castle, and please come back and visit soon, when there's more to see! Merry part ...

Before you leave, please sign the book on the hall table ...
Leave me a message on the
Answering Machine!

Iye's Earth || Dragon Valley || Silver Threads UK || Email