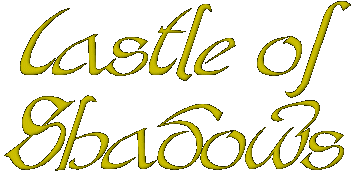 Be welcomed to the Castle of Shadows ... Smokeshadow's humble little new home on the web! I apologise for taking things down and moving them around yet again; but pretty soon I'll have all this little lot sorted properly ... please bear with me and keep checking back .... Dragon Valley has moved to it's own little realm, it isnt much yet, just a few pictures since the dragons all got lost on the way there *g* but go take a peek soon ... and Iye's Earth is rapidly growing, and this is where a lot of the stuff is moving to ... and soon there will be new stuff coming here ...
I will keep you posted as to what is happening, but for now I have left the webrings and links and memberships where they are, so at least you can always get out of the Castle easily *g* ...

Before you leave, please sign the book on the hall table ...
Leave me a message on the
Answering Machine!

Links Chamber | Webrings | Music Room | Iye's Earth | Email